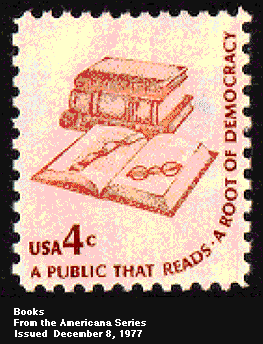 The first book published in the American colonies was the Bay Psalm Book published at Harvard in 1640. However, in the American colonies book publishing was slow to develop, mainly because of British restrictions, until political dissent and the ideas of the revolution stimulated publishing.

By the 1840s there was an increase in publishing because industrialization required a literate work force andmanagers to manage them and public school education became mandatory. It started in Massachusetts in 1834. This led to an increase in literacy.

Books have these unique characteristics:
They are slow to produce, but reach large audiences.
They offer permanent storage of ideas and are more durable.
Their publication is independent of advertising.
They are bound and covered, and consecutive beginning to end.
They are less timely than other information media, sometimes taking years to write and a year to produce.
Readers can peruse books at their own pace.