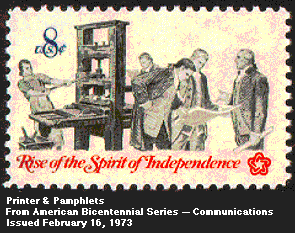 A pamphlet is an unbound printed work, usually with a paper cover and containing a short essay or treatise on a current topic.

A pamphleteer is a writer of pamphlets or other short works taking a partisan stand on an issue.

One of America's best-known pamphleteers was British-born American writer and Revolutionary leader Thomas Paine, 1737-1809.

Paine wrote the pamphlet Common Sense in 1776, arguing for American independence from Britain. In England, he published The Rights of Man in 1791-1792, a defense of the French Revolution.